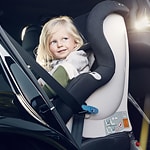 After choosing the right child safety seat, it is time to install it. Although the LATCH system is meant to make car seat installation simpler, some people still find the process frustrating. Things can get even more challenging if you are in a hurry. Luckily, this guide will ease the pain and teach you how to install a child safety seat quickly like a pro.
Method 1: Installing Front Facing Child Safety Car Seats
For a front-facing safety seat, you should start by threading it through the car seat. All front-facing car seats have openings where you can pass the safety belt through and buckle it on the other side. Go ahead and use a tether to anchor the car seat and attach it to the seat of your vehicle using the latches.
Method 2: Installing Rear Facing Child Safety Seats
To install a rear-facing seat, you must begin by checking the base angle. It is advisable to set it in a reclined position for your young infant so that they breathe properly. Ensure to check the level indicators and the instructions manual to make sure you are doing it right.