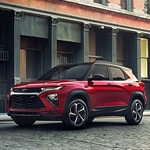 The 2023 Chevrolet Trailblazer boasts an impressive interior designed to cater to the needs of modern drivers. Here are some of the key interior features to look out for:
Spacious Cabin
The Trailblazer has a spacious cabin that can comfortably seat up to five passengers. It offers ample headroom and legroom, ensuring all occupants can comfortably ride.
Premium Upholstery
The interior of the Trailblazer is available in a range of premium upholstery options such as leatherette and leather seats. The seats are supportive and comfortable, making long rides more enjoyable.