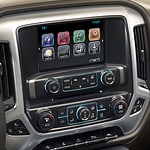 An infotainment system is a crucial part of the vehicles here at Royal Motor Company that works to ensure entertainment and information are relayed to the vehicle's occupants. It is essential to keep drivers in Cortland, NY alert and informed on whatever is going on in the car hence allowing the driver to take necessary steps to either correct or abandon an event.
The entertaining aspect ensures the occupants have an exciting drive while also keeping the driver alert and not sleepy. Some of the features in an infotainment system include a touchscreen display, instrumentation display, a heads-up display, operating systems, and connectivity modules—the touch screen display assists in managing various functions such as music hence keeping the occupants entertained.
The heads-up display keeps the driver informed on real-time processes in the vehicle, reducing the distraction for the driver. It consists of information such as speed, navigation, climate, and multimedia options. Other features that might be essential include connectivity features such as Wi-Fi and Bluetooth.