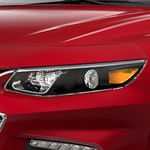 As a mid-size family car, the Chevrolet Malibu certainly excels. Cortland, NY Malibu owners are also likely to be pleased with its stellar Chevy design features. Both the exterior and the interior of the Chevrolet Malibu are designed to turn heads. Whether you prefer this Chevy sedan's soft-touch accents inside or muscular lines outside, the Malibu has a lot to offer when it comes to visual appeal.
In the Chevrolet Malibu's interior, you will find well-crafted seats, triple-sealed doors and available upgrades like an acoustic-laminated windshield and an eight-way power driver seat. Additionally, chrome satin accents allow Malibu owners to feel a bit of elegance in their sedan.
At Royal Chevrolet, we are impressed by the modern exterior and sleek body lines of the Chevrolet Malibu. Furthermore, the dual-port grille is a nice touch. Finally, optional Malibu exterior upgrades include dual exhausts, LED daytime running lamps and LED taillamps.